Anatomical and functional results of surgical treatment of familial exudative vitreoretinopathy in children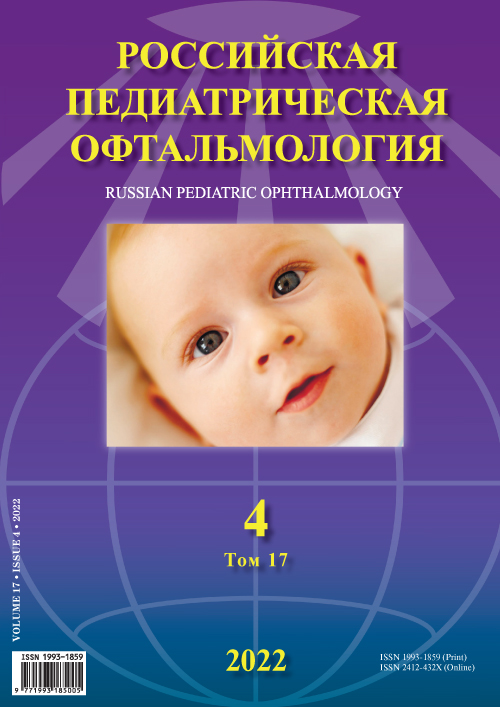 Cite item
Full Text

Open Access
Access granted

Subscription or Fee Access
Abstract
Familial exudative vitreoretinopathy (FEVR) is a rare hereditary disease characterized by abnormal angiogenesis, presence of avascular zones on the periphery of the retina, and clinical manifestations ranging from an asymptomatic course to total retinal detachment. Surgical interventions are performed to eliminate vitreoretinal traction, epiretinal membranes, and retinal detachment. Studies of the surgical treatment outcomes of patients with FEVR are limited and findings are ambiguous
AIM: To analyze surgical treatment outcomes of different stages of FEVR in childhood.
MATERIAL AND METHODS: From January 2012 to October 2021 at the Helmholtz National Medical Research Center of Eye Diseases, surgical treatment was performed in 35 eyes of 33 patients aged 11 months–15 years (average, 7 years). The effectiveness of treatment was evaluated 1–2 months after the treatment, and patients were examined every 3–6 months for 1–5 years (average 2 years).
RESULTS: Аfter the primary surgery, a decrease in retinal traction in the posterior pole and periphery was achieved in all cases. Complete and incomplete reattachment was achieved in 30% and 70% of the eyes at stage 3 and in 12.5% and 87.5% of the eyes at stage 4, respectively. The long-term effectiveness rates of the intervention in stages 2, 3 (including complete and incomplete reattachment), and 4 were 100%, 87.5%, and 73.3%, respectively.
Increases in the best-corrected visual acuity (BCVA) were observed in 83%, 50%, and 28.6% of the eyes in stages 2, 3, and 4, respectively. In other cases, successful surgical treatment allowed the preservation of visual functions. During the follow-up, visual acuity of 0.1 or more was maintained in 100%, 85.7%, and 36% of the eyes at stages 2, 3, and 4 of FEVR, respectively.
CONCLUSION: Аnatomical and functional results of surgical treatment of FEVR correlate with the disease stage: the efficiency is greater in stage 2, and it was organ-preserving surgery in stage 5. To increase the effectiveness of treatment, early diagnosis of FEVR, laser coagulation of avascular zones, and active vessels are necessary, which makes it possible to stop the progression of the early stages of FEVR in 70%–100% of cases and enables regular monitoring of patients for the timely detection of indications for additional laser coagulation or surgical intervention.
Full Text

References
Benson WE. Familial exudative vitreoretinopathy. Trans Am Ophthalmol Soc. 1995;93:473–521.
Shukla D, Singh J, Sudheer G, et al. Familial exudative vitreoretinopathy (FEVR). Clinical profile and management. Indian J Ophthalmol. 2003;51(4):323–328.
Hocaoglu M, Karacorlu M, Muslubas IS, et al. Anatomical and functional outcomes following vitrectomy for advanced familial exudative vitreoretinopathy: a single surgeon's experience. Br J Ophthalmol. 2017;101(7):946–950. doi: 10.1136/bjophthalmol-2016-309526
Ikeda T, Fujikado T, Tano Y, et al. Vitrectomy for rhegmatogenous or tractional retinal detachment with familial exudative vitreoretinopathy. Ophthalmology. 1999;106(6):1081–1085. doi: 10.1016/S0161-6420(99)90268-3
El-Khoury S, Clement A, Chehaibou I, et al. Outcome and risk factors of vitreoretinal surgery in pediatric patients with familial exudative vitreoretinopathy. Graefes Arch Clin Exp Ophthalmol. 2020;258(8):1617–1623. doi: 10.1007/s00417-020-04712-w
Pendergast SD, Trese MT. Familial exudative vitreoretinopathy, results of surgical management. Ophthalmology. 1998;105(6):1015–1023. doi: 10.1016/S0161-6420(98)96002-X
Yamane T, Yokoi T, Nakayama Y, et al. Surgical outcomes of progressive tractional retinal detachment associated with familial exudative vitreoretinopathy. Am J Ophthalmol. 2014;158(5):1049–1055. doi: 10.1016/j.ajo.2014.08.009
Kashani AH, Brown KT, Chang E, et al. Diversity of retinal vascular anomalies in patients with familial exudative vitreoretinopathy. Ophthalmology. 2014;121(11):2220–2227. doi: 10.1016/j.ophtha.2014.05.029
Supplementary files
Supplementary Files
Action